Dennis Osadebe is a Nigerian mixed-media artist best known for his vibrant post-pop style. Osadebe's style is a unique blend of digital processes which he uses to create canvases that are subsequently layered with acrylic paint. With his characteristic use of flattened planes and bold colours, the artist creates what he refers to as a "NEO" visual style, one that is "modern, bright, expressive and provocative".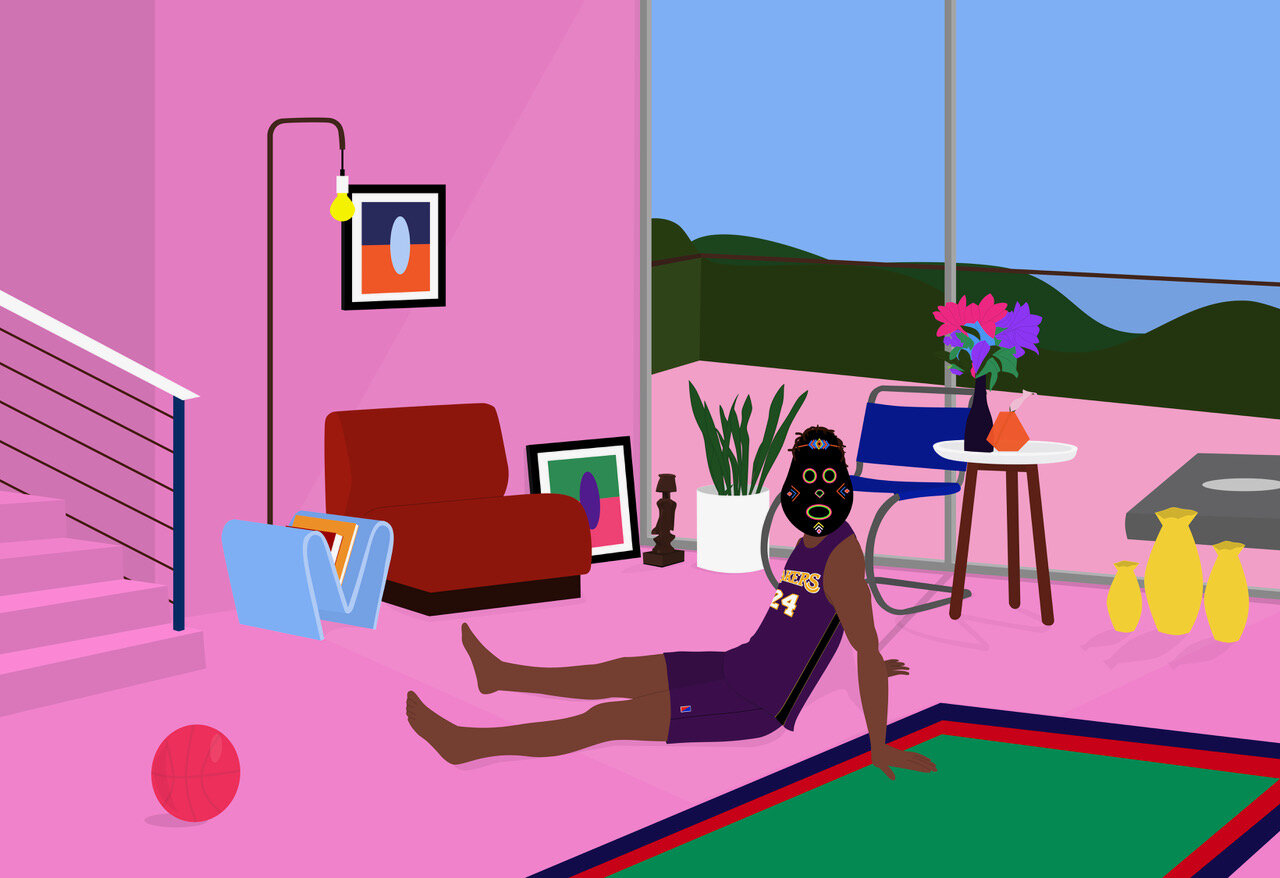 Stand for Something
Dennis Osadebe x UB
What do you stand for? What does that say about you?
For me, Neo Africa is a cause worth standing for, and it is also the inspiration behind my current work. In this collaboration with Unique Board, I have combined both urban and traditional cultures in order to reflect the Nigeria of today, a Nigeria the history of which has produced me as an artist and the forward-moving nature of which continues to influence me every single day. I have also taken a fresh look at the Mask through the use of color, textures and style of production.
Furthermore, I have worked with the sign of the pledge – which relates to "Stand for Something," the title of the piece.
The Neo Africa movement is one that is near and dear to my heart, connecting back to these questions I ask myself again and again. What is African art? Who gets to define it? What are its limits? And where is it going?
Stand for Something, Edition of 3
Available exclusively at Avenue des Artes, for Dennis Osadebe's solo exhibtion, Field of Dreams, September 21 - October 12.
Stand for Something - Inspiration
Field of Dreams
Avenue Des Artes | Los angeles, ca
In this exhibition, the artist offers his take on "dreaming" – as an element of reflection, discovery and as a gateway into the deepest space of the soul. He further explores the sensory experience of sleep, and the fields of multicolored landscapes speak of hope and a brighter future.
In contrast to earlier work from Osadebe, these new works elaborate on an interesting shift in style for the artist, whose works are recognizable for its geometric blocks of contemporary vibrant colored backgrounds, clean modern interior and figures in extensive hypnotic patterned outfits.
DREAMstate
GR Gallery | New York, NY
GR Gallery is thrilled to present "DREAMstate", featuring for the first time artists Joseph Lee, Erik Mark Sandberg, Dennis Osadebe and Joshua Vides in a fresh, groundbreaking group exhibition. The show puts together 20 pieces, including paintings, works on papers and installations. The title is inspired by the unique creative energy that connects the four artists, able to forge, through different visions and techniques, an oneiric reality that misleads our visual realm.